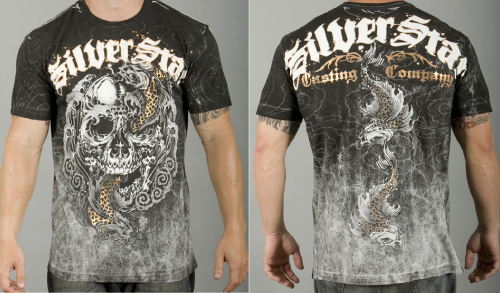 Yoshihiro Akiyama made his UFC 100 debut with a split decision victory over Alan Belcher. Traditionally Akiyama walks out in a Gi, but also he wears the "Koi Premium," Silver Star MMA Shirt for UFC 100.
Akiyama is very popular in Japan and is ranked by MMA weekly as one of the top 10 middleweights in the world; he looks to be on the right track with his new home in the UFC, winning the fight of the night Bonus.
The most interesting thing to me for this fight was actually Akiyama's entrance song, it was 'Time to Say Good Bye' by Andrea Bocelli, (the blind Italian tenor). Never heard any fighter walkout to an opera song, but to be honest it was really cool. Akiyama made a very memorable UFC fight entrance, when he kneeled down with his team when he entered the area to show a sign of respect. Show your support for Yoshihiro Akiyama get Silver Star Shirts here.