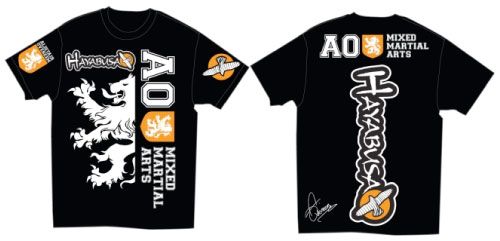 This Allistair Overeem T shirt is the same shirt he wore in his victory against Brock Lesnar in UFC 141. Not only did Overeem pick his opponent apart "piece by piece" with knees and kicks; he also forced Brock Lesnar into retirement. In addition, it was Overeem's debut fight in the UFC.
The MMA shirt made by Hayabusa features the AO initials as well as his signature crest that has a Griffin symbol. The words Mixed Martial Arts is displayed prominently on the front to help represent the best and the fastest growing sport in the world!
Show your support for Alistair Overeem as he has proven himself in Strikeforce, Pride and now looks to be an unstoppable force in the UFC.