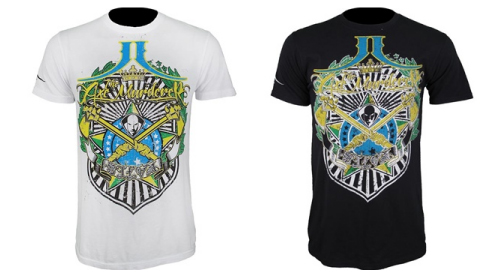 This is the Wanderlei Silva T shirt made by Jakt for the UFC 132 fight against Chris Leben. These two fighters have crazy brawling styles and it is sure to be fast paced and intense.
The Wanderlei MMA shirt features the Brazilian colors of blue, green and gold, of course. But the coolest part about this shirt is that there are two axes crisscrossed and his nickname "The Axe Murderer" at the top. Its definitely a very bold design and fits well with his fighting style. A small Wand Fight Team logo is also centered in the design to give props to Wanderlei's MMA school that is headquartered in Las Vegas.
The shirt is available both in either white or black.