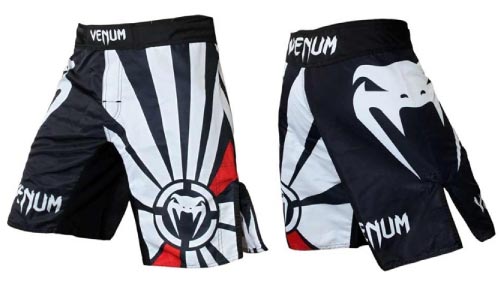 The Venum Undisputed shorts were designed especially for fighters who are also into video games. These undisputed shorts are the same design of MMA shorts that are in the 2010 UFC Undisputed video game from THQ.
Now, you can own the real thing. There's nothing like having a virtual fighter that looks like you in a video game, and even better now you can wear the same shorts when you train or fight for real.
The Undisputed fight shorts feature an eye-catching design. There is the giant snake fang logo on one side. And on the other side is the logo as the focal point of the rising sun light rays design.
While the shorts are inspired from the video game, be 100% confident that these are durable. They feature strong microfiber material and reinforced stitching that are used in all the other high quality venum shorts.