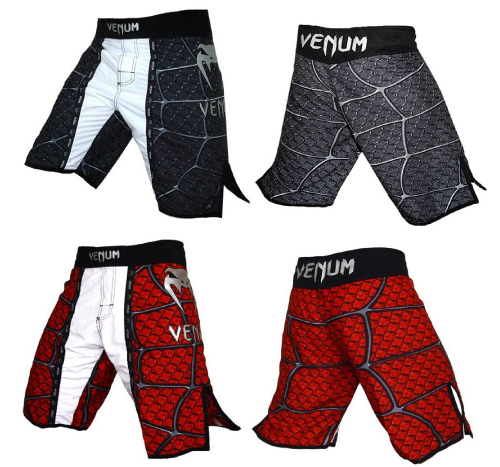 Just when you think MMA shorts couldn't get better looking, Venum, the famous Braziliann company develops a fight short that looks really amazing. They are the Venum Spider Shorts that are available in Red and Dark versions.
Venum Spider MMA Shorts Design
The Venum Spider shorts has a design that replicates the look of Spiderman, one of the coolest superhero icons in history. The shorts feature a unique scale-like pattern that are highly detailed to give a 3D style and is overlaid with a sliver-gray spider web that adds to the effect. On the back the graphics pattern combine to cover it entirely, to give the "Spiderman" impression. When you first see these shorts you can't believe how great they look, so many people give the design high ratings and it has become a favorite among many MMA athletes.
Venum Spider MMA Short Comfort and Fit
The shorts were built to be versatile and comfortable for a wide range of positions, whether you are standing, in a butterfly guard, rubber guard, mount etc. They also feature long split side seam that gives excellent mobility for high kicks, without the chance of catching on your knee. However, the shorts have a drawstring and Velcro enclosure but DO NOT have an elastic waistband, so you should only order the size truest to your waist. Lack of the elastic waistband ensures that you don't wear get short that is too big or small, it really makes it so that its essentially like a custom fit.
Venum Spider MMA Shorts Durability and Construction
Venum is known worldwide for its extreme durability and these shorts are absolutely one of the most durable. They are constructed of lightweight Polyester material but also have the strength for everyday usage and can withstand rips and tears. The material also is very quick to dry and helps retain its shape. There are reinforced seams on the splits, that give it added wear-and-tear protection.
Overall Venum Spider MMA Short Review
The bottom line is that Venum shorts looks great. People all seem to agree that the design is one of the best; its unique, intimidating and detailed. Of course, since there is no elastic waistband it's important to get the shorts that are truest to your waistline size, if you do this then you will have one of the most comfortable and stylish MMA shorts from Venum.