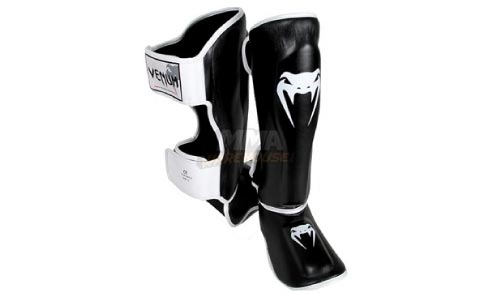 These Venum shinguards have been developed specifically for stand-up MMA training.
They have wide Velcro straps in the back to firmly secure the pads to your legs so it wont shift or slide while sparring.
The ones not used for standup, but used for rolling (Brazilian jiu jitsu) have sock type back, where you insert your leg into the pad and the back of your legs are covered with flexible neoprene material. This is usually is a pain and takes a lot of time to put on and take off.
However, Venum's Standup MMA Shinguards are quick and easy to take on and off with the pressure sensitive hook and loop (Velcro) straps.
The construction of these are very solid and are hand-made in Thailand for superior craftsmanship. Thailand makes top shinguards primarily due to the high standards in Muay Thai training there.
Perhaps the best part, of these Venum shinguards is the design. They look very sleek and stylish with black gloss background and the cool snake fang logo.