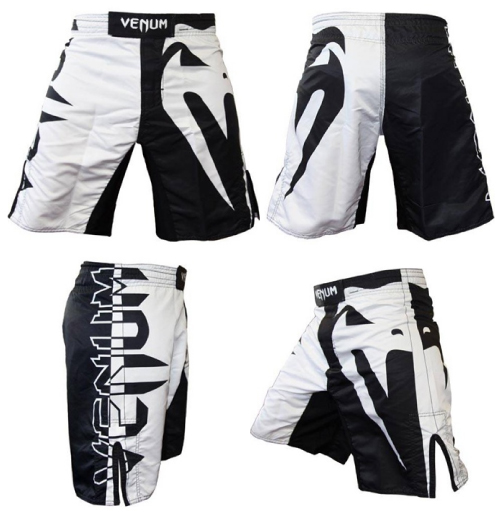 MMA Shorts Design
The Venum Hurricane MMA shorts have a really cool design, so much that most people describe them as being "bad-ass". We agree with that. The design gives a fighter the stylish look they want in the cage but at the same time makes a statement that they are there for some SERIOUS business. Venum's two tone color scheme makes a very high-impact design, especially when they alternate the background and foreground colors — for example in the snake fang image's interchange effect of half white and black. These aren't the only colors, Venum has a Red/White and Green/Yellow (Brazillian) versions. Which also look as great as the original black and white.
MMA Shorts Durability and Construction
Venum Hurricane FX shorts are constructed of a microfiber material that makes it even more lightweight that the typical shorts but is surprisingly very strong as well and is tear/rip resistant. It's durable for any kind of training or competition. There is also a flex "FX panel inside that is made of Lyrca to give you the added flexibility and full range of motion. Split seams are on the side of the legs that prevent your knees from getting caught when throwing high kicks or knees.
Overall MMA Short Review
This short ranks as one of the top MMA fight shorts. It's durable and has a distinctive design. The comfort level is great; making it versatile for use in training, competition, any other sports or even just relaxing at the beach. Buy the Venum Hurricane FX Fight Shorts Here