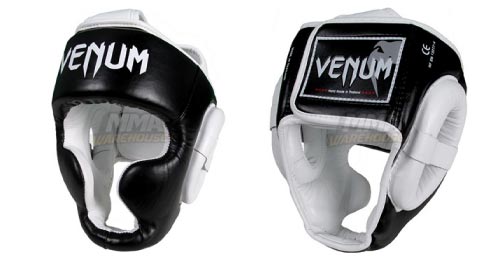 The Venum MMA Headgear is one solid piece of MMA equipment. Venum's commitment to high-quality MMA shorts can also be seen in their headgear.
It's put together with superior craftsmanship, its hand-made in Thailand, where they are highly skilled in producing quality Muay Thai equipment.
The Headgear is made of 100% top quality leather and durable, non abrasive stitching. To ensure comfort and a great fit, the head gear has a dual Velcro fastening system with both a horizontal and vertical strap. The horizontal Velcro is extra-wide to give more stability and lessens the chances of getting it pulled off accidentally by your sparring partner.
Be assured that you will also have excellent protection, the foam will absorb high-impact shots. Your forehead, temples, cheeks, ears and chin will be covered.
One of the best parts of this piece of MMA gear, is the sick design. Venum's white and black leather combo looks great and has a very stylish appearance. Even though, the most important thing this does is protecting your melon.
You might also like:




Everlast's Headgear A wide variety of Head gear, ranging from lightweight to heavy duty with face cages.