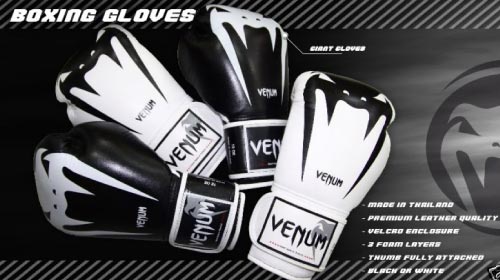 Glove Design
Venum's Boxing Sparring Gloves take its design from their popular "Giant" line of rashguards and shirts that feature a giant logo of the Venum snake fangs. These gloves are quite stylish and are available in black or white. The white Venum gloves are especially unique as you don't see white boxing gloves too often.
Glove Construction:
The Venum Giant gloves are hand-made in Thailand, a country known for its pride in superior craftsmanship with sparring gloves, this is mainly attributed to the high-standards in Muay Thai equipment. It is constructed of 100% leather outer, that has just the right about of elasticity and durability.
Glove Comfort:
These gloves fit very well. At first, they are slightly tighter around the wrists, but this can be adjusted over time. They have an attached thumb that helps keep your hands in an optimal position.
Gloves Protection:
The Venum Gloves are available in a variety of sizes ranging from 10 oz., 12 oz., 14 oz., and 16 oz., to suit your training needs on glove weight. Padding on the palm provides great protection when you block either punches or kicks.
Overall Gloves Review:
These gloves have an awesome design and have quality construction that you would expect from Venum. They are also priced high, which is fine because of its top quality and is a great all-around MMA sparring glove. We absolutely love the white ones, they look really sleek.