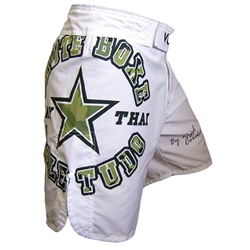 Venum is a relatively new company started in 2006. It was started by BJJ practitioners and is run out of Rio, Brazil. Although more expensive than most shorts on the market, they have some of the coolest designs I have ever seen. They have several designs for Chute Boxe, including this "Jungle Camo" edition, a Paulo Filho edition, and American Top Team editions.
There aren't many endorsed products for those teams, so these are great for any die hard fan of Chute Boxe or ATT. The shorts look great, and from what I hear are top quality.
Unfortunately, the high price is quite a deterrent for many, which is why these are not seen very often in training.
Constructed with a heavy duty rip-stop material to ensure a long product life
Six inch, reinforced split outer leg seams for unrestricted movement
67% polyester blend, 33% cotton
Two way velcro enclosure and internal drawstring for a comfortable fit
Imported