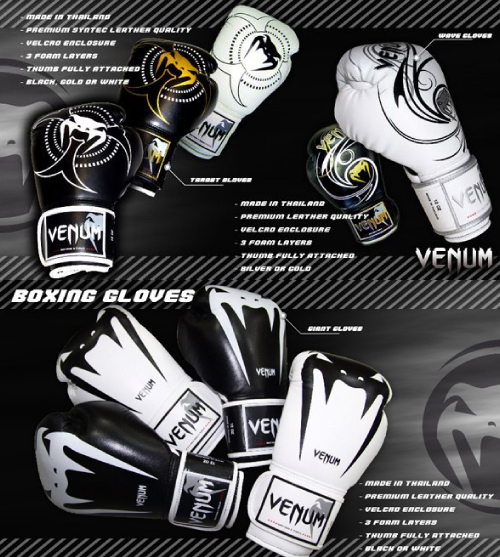 Venum has expanded its line of products to other types of MMA gear to include the new Venum Boxing gloves. These will be released soon so make sure to keep an eye out for the upcoming glove.
There will be three versions of the Venum Boxing Gloves:
The Venum Target Boxing Gloves: These feature a biohazard symbol with the infamous fang logo on top. They will be available in Black, White or Gold.
The Venum Wave Boxing Gloves: There will be a swirl wave contrast pattern on these gloves and will be available in black or white.
The Venum Giant Boxing Gloves: These share the same design as the Venum Rashguards and Venum Fight shorts. It has the Giant fang symbol in either black or white. We think these look the best out of the three.
All three varieties of the Boxing gloves are made in Thailand, where most of the top Boxing and Muay Thai gloves are constructed. They all feature 3 layers of foam padding, leather construction, fully attached thumb and a Velcro strap closure system.