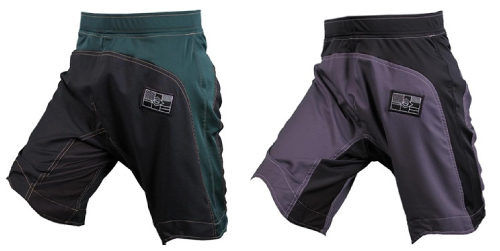 UniVsAll takes the best of both worlds and puts it into their Hybrid Phoenix MMA shorts. Basically, they took the features of boardshorts and fight shorts and put them into one versatile pair of Mixed Martial Arts shorts.
The shorts feature a Velcro-less and fly-less front. This makes absolute sense as you really don't need a fly opening when training. The absence of Velcro also makes the shorts more comfortable as sometimes the Velcro will scratch you or your training partner.
As with high quality shorts, you get stretch fabric to increase the range of motion and flexibility. For added range of motion, the knee area has an arched design to prevent your knees from getting caught when you are shooting or throwing knees.
The shorts also feature a clean and sporty design that looks great. It is a simple design but it definitely is great for training or working out, we like the professional look to it.