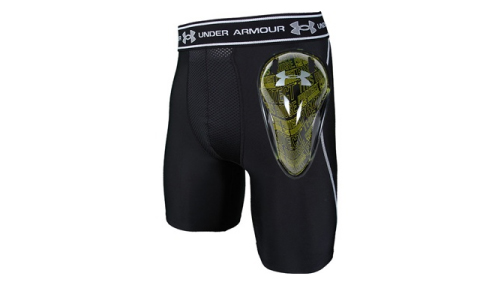 The Under Armour Compression Shorts and Cup is one of the newest groin protection systems to hit the Mixed Martial Arts gear industry. Of course, UA has been a big player in mainstream sports such as football. And it was only natural to utilize their technology for MMA.
The compression shorts are made of a Nylon and Elastane blend for stretch and flex. It is also their special HeatGear fabric that is designed to keep you cool and helps wick away sweat to keep you dry. There is a mesh fabric for the cup insert for extreme ventilation.
It also comes with the Under Armour MPZ Cup that is your standard protective cup with hard plastic as the main cover and soft rubber covered edges. The cup's design is also pretty cool it has the famous football slogan "Protect This House" in a pattern all over it.
This groin protector is your standard model if you are interested in a more advanced system for MMA check out the Jaco Guardian Shorts and Cup.