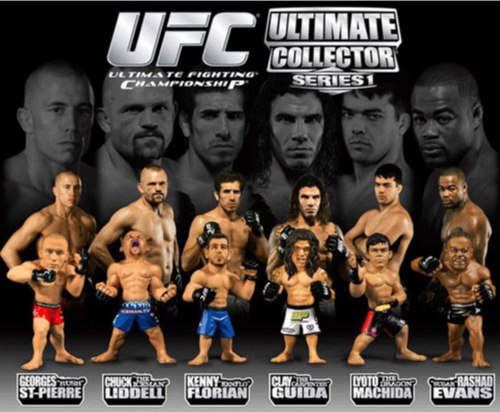 Round 5 MMA has recently introduced their newest series of MMA collectibles with the Ultimate Collection that is now branded with the UFC. The first round of figures will have some of the most popular UFC fighters including Georges "Rush"St. Pierre, Kenny "Kenflo" Florian, Chuck "The Iceman" Liddell, "Suga" Rashad Evans, Clay "The Carpenter" Guida and our personal favorite, Lyoto "The Dragon" Machida.
Each MMA action figure is crafted with extremely detailed characteristics and captures the fighter's likeness perfectly. A couple of the figures portray their unique stance, such as Chuchk Liddell's victory celebration and Lyoto Machida's elusive karate stance.
The six MMA collectibles will include action highlight photos of each fighter's and a biography with career defining statistics.
These figurines are great for fans of all ages and will be available for purchase in early 2009. You can also check out the previous Round 5 collectibles MMA series 1 , series 2 and series 3.