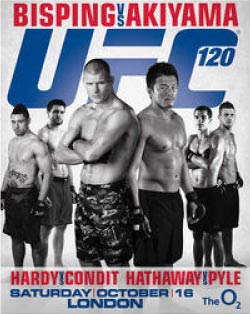 UFC 120 is around the corner and will be held in the O2 arena "across the pond" in London, England. The main event will feature Britain's homeboy Micheal Bisping who will take on Japanese superstar Yoshihiro Akiyama aka "Sexyama".
Not to be overshadowed by the main event, is the welterweight grudge match between English fighter and top contender Dan Hardy vs Carlos Condit. Both fighters have exchanged some words and have talked some trash, so it should be very interesting. Hardy is climbing back up the ladder for another title shot, while Condit "The Natural Born Killer" is a former WEC champ.
Also on the card is Chieck Kongo, "The African Punisher" one of the toughest kickboxers in the game and is such a devastating striker.
Micheal Bisping Official T Shirt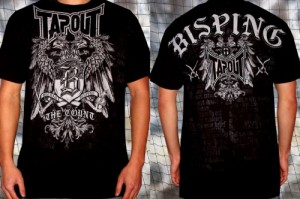 The Michael Bisping T shirt is his signature shirt form Tapout, that is entitled after his nickname "The Count".
Yoshihiro Akiyama T Shirt

Yoshihiro Akiyama's Dethrone T shirt called "Overthrow" is what he wore in the UFC 116 that features a sick design of a king that is blindfolded.
Dan Hardy T shirt Signature Series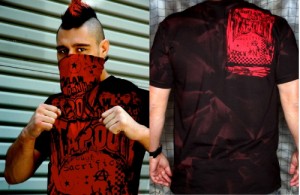 The Dan Hardy T shirt from Tapout features a rocker theme and is one of the most popular signature T shirts. Hardy wore this in his previous fights in UFC 105 and UFC 111 (vs GSP).
Carlos Condit T Shirt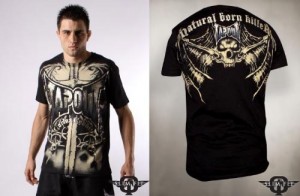 The Carlos Condit T shirt from Tapout is his signature T shirt that he also wore in UFC 115 where he defeated Rory Mcdonald via TKO.
Cheick Kongo African Punisher T shirt by Venum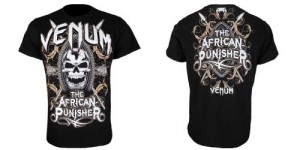 The Cheick Kongo T shirt is made by Venum MMA and features an African Tribal theme with a bad ass skull.