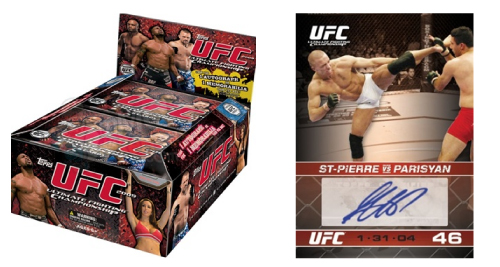 Topps, the baseball card company, has now expanded into MMA with their newly developed series of collectible UFC trading cards. All MMA fans now have the opportunity to collect and trade some of the most unique trading cards on the market.
The Topps UFC Trading Cards feature 150 base cards that have different levels of limited production. All 150 Base card subjects are paralleled and randomly inserted to ensure each box gets a good mix:
Diamond: 1 of 1
Ruby: Numbered 1 to 8
Bronze: Numbered 1 to 88 (exclusively in Retail boxes only)
Onyx: Numbered 1 to 188
Gold: random
There are also exclusive autographed cards that are limited production from top UFC fighters and current champions. One of the most unique features of these are the "Bloodlines Signatures" where fighters proudly present their family heritage of martial arts.
Not only are fighters represented in the UFC trading cards, but also some of the popular UFC personalities such as announcers, commentators, UFC personnel and UFC ring girls.
Be the first to own these collectible cards. You can buy a box of Topps UFC Trading Cards here.