Camo MMA shorts are one of the most popular fight short designs and are a favorite among military and law enforcement personnel who train in Mixed Martial Arts. The top MMA brands have produced a wide variety of Camo shorts in different patterns and shades similar those used by the military in combat, here is a list of our Top 10 best picks for Camo MMA fight shorts:
1. Sprawl ExoCage Urban Camo MMA Shorts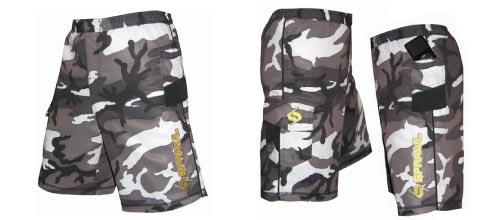 This is one of Sprawls original fight shorts, and one of our favorites. It has the urban camouflage all over with a small yellow Sprawl logo on the left leg. We believe that this MMA short has the closest resemblance to the Camouflage of tactical BDU's (Battle Dress Uniforms) worn in the US military. It also has pockets that are very useful to hold your mouthguard or your mp3 player when you wear the shorts for running/training.
2. Punishment Athletics Desert Camo MMA Shorts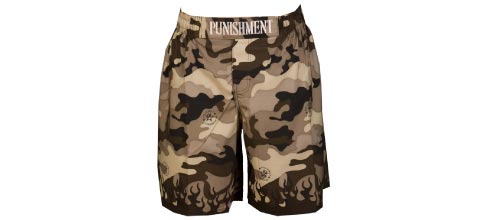 The Punishment Athletics shorts feature a Desert camo, similar to the pattern worn by the Troops fighting for our freedom in the middle east (Afghanistan, Iraq). They also have a flame pattern around the bottom of each leg that is a signature design trait among the Punishment Athletics clothing line. Small Punishment "star and fist" symbols are randomly scattered around the pattern.
3. American Fighter Camo MMA Shorts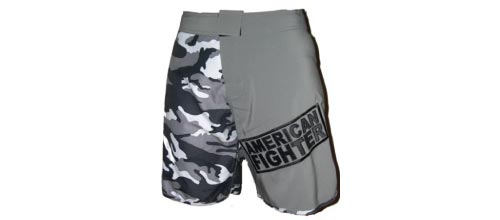 These are the Camo version of Rich Franklin's signature fight shorts. One side has the urban camo pattern and the other has a plain gray color that's Branded with the American fighter logo. We like the term "American Fighter" because it serves as a double meaning that pays tribute to both MMA fighters and the Soldiers fighting overseas.
4. Warrior International Camo MMA Shorts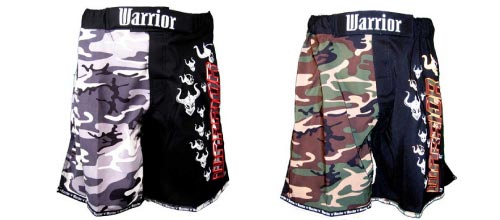 The Warrior Domination fight shorts have been popular in the UFC and set a high standard in fight shorts. They are comfortable, durable and built for battle. The first version has the traditional urban camo pattern and the other has an Army camo pattern. Warrior shorts have been worn by top fighters such as Brock Lesnar, Shane Carwin, Joe Stevenson and Mark Munoz.
5. Sprawl Fusion Camo MMA Shorts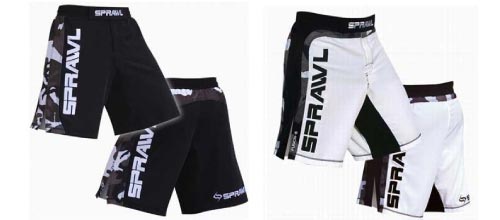 Sprawl's advanced fight short also comes in the popular camo versions. These however, only cover a small strip on the side and right below the waistband. This design provides a more subtle style and is good for anyone that wants just a "touch" of camouflage and have the full functionality of one of the overall best MMA fight shorts in the market.
6. Clinch Gear Camo MMA Board Shorts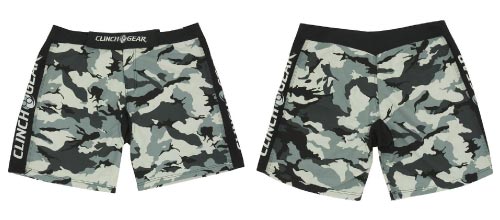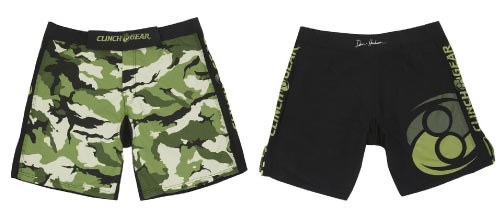 Clinch Gear specializes is grappling shorts here are two of their best in camo pattern. The first (top) is their Classic Primo Boardshorts with full urban camo and a black clinch gear stripe down both sides. The second short is the Primo Hendo Camo short. Only the front has the green camo pattern, while the back is a solid black color with an enlarged green Clinch Gear symbol. The back of the waistband has also been signed by Dan Henderson, Clinch Gear owner and MMA fighter who has personally designed and tested these shorts.
7. Sinister Camo MMA Shorts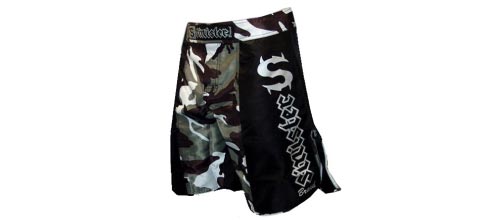 Sinister's Camo shorts have a partial pattern design but it has the camo pattern in the middle crotch area, unlike other shorts with partial camo that have the pattern on the side. . It is definitely a unique design and rare brand. The sides of the shorts are solid color with the Sinister brand and S Logo running down the side.
8. Wreckage Camo MMA Shorts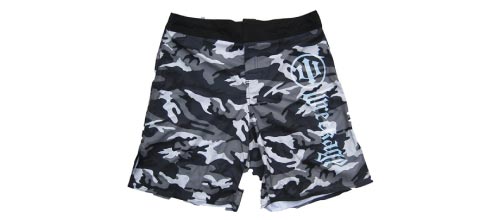 These camo shorts are so good with blending its surroundings that the Wreckage logo is hard to spot. (Isn't that what Camo is all about?) It features an urban camo pattern, that utilizes slender shapes that interlock the different colors more effectively. This is a good camo short if you want less MMA brand logos and more camo!
9. Tapout Camo MMA Shorts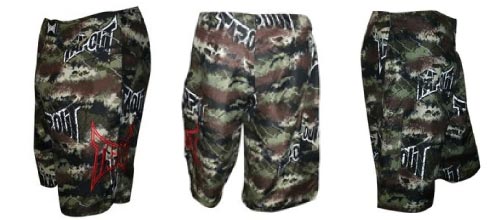 Tapout has a wide range of MMA gear and its no wonder that they also have a Camo MMA Short. It has a design that captures the essence of the "Tapout style" and is more artistic than the other shorts on this list. The Tapout shorts have a woodland camo pattern similar to those used in hunting and paintball. Additionally, blends in graphics of a chain link fence like the ones in used in MMA cages. Tapout's logo is also screen printed all over with a red embroidery in the side.
10. Fighter Girls Camo MMA Shorts for Women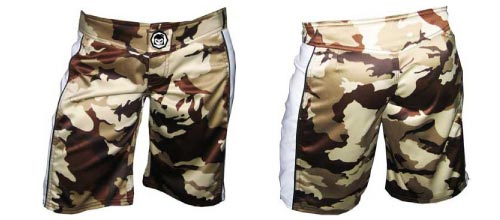 We didn't forget about the ladies! Fightergirls makes MMA Shorts that are specifically designed and fitted for the female form. This girls fight short has a desert camo pattern with larger spots of color for a more stylish look.