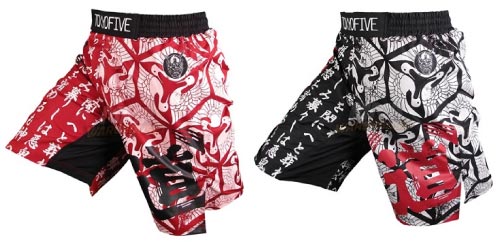 One of the newest shorts to come out is the Tokyo Five Ku MMA Shorts. The Ku fight shorts feature a design inspired by Japanese fashion and artwork. There is a nice blend of Kanji (Japanese characters) and birds that is printed throughout the shorts. A small Tokyo five Kabuki mask also makes an appearance in the patterns.
This MMA short is ideal if you are looking for extremely stylish fight shorts to wear in the cage. These are sure to draw more attention than your regular fight short.
As you know Tokyo Five is the leader in stylish MMA inspired clothing and these shorts are one of the most fashionable in the fight game. They are available in either black or red color schemes.