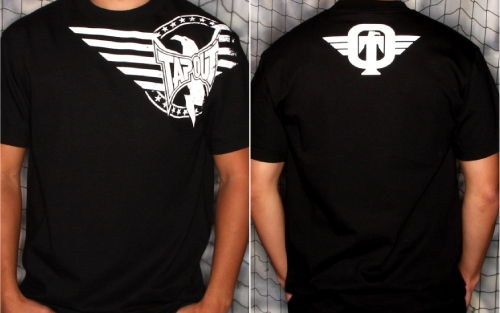 The Tapout Thunderbird t shirt is a fresh look that doesn't have the hectic design typical to other MMA t shirts.
This shirt looks clean and sharp with a solid white graphic of the "Thunderbird"that is displayed on prominently on the left shoulder. Its offset location gives a nice asymmetric look that gives it a touch of style without being too over the top.
The back of the Tapout shirt features a letter T symbol that incorporates the image of the thunderbird head and wings.
It's a pretty cool looking shirt and we like how Tapout is mixing things up a bit.
This was also the same T-shirt worn by Kenny Florian in his warm up before winning his fight against Clay Guida in UFC 107.