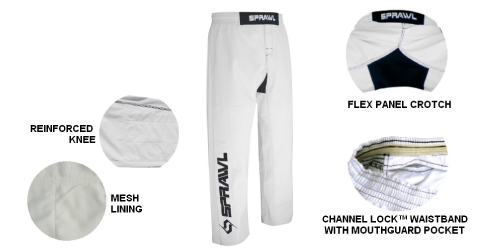 Sometimes when you buy a Gi for Jiu Jitsu the jacket fits great but the pants are just not as comfortable. Fortunately, the folks at Sprawl have developed their new Sprawl Gi Pants.
These are the best Gi pants and have been inspired by the Sprawl grappling shorts that share the same engineering such as:
A "real" adjustable waistband system that is complete with drawstring, fly and Velcro fastener.
A channel lock inner waistband that provides the best security in training or competition.
A Flex Panel crotch to enhance flexibility.
Mesh lining in the legs to keep the pants from sticking to your skin when you sweat.
Basically you get security and flexibility in a pair of Sprawl Gi pants, they are ten times better than the traditional pants that come with the jackets.
Also, the Sprawl Gi Pants are made a little longer so you can custom shrink them to your desired length by increasing drying time after the first wash.