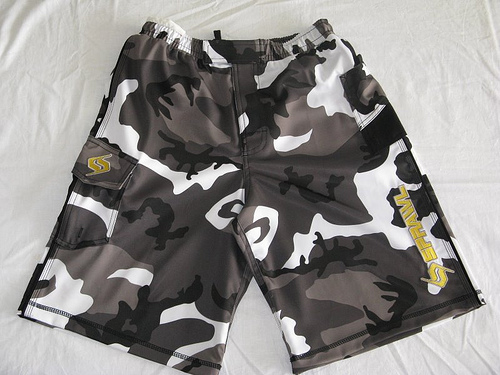 Sprawl released a picture and some info about their new shorts, and they are a bit different than expected. The shorts do not have features like split seams, flex panels, or grip panels like the V-Flex or G-Flex, but rather two pockets, one smaller for a phone/mp3 player, and a larger pocket. Both are secured by velcro. The shorts feature the same velcro and elastic waist band, but in a smaller profile.
These shorts are aimed at people who want to use their Sprawls for casual use, like running, lifting weights, or even just relaxing at the beach. These are not ideal for actual MMA work, because the pockets are an injury hazard, and shorts with pockets are not allowed in many grappling and MMA competitions.
These are for people who like wearing Sprawls outside of the gym, but had a hard time carrying necessary items, or felt that split seams and flex panels attracted unwanted attention.
As of now, these are dubbed the "Hybrid MMA Athletic Shorts" and will be available in urban camouflage and black with grey trim.