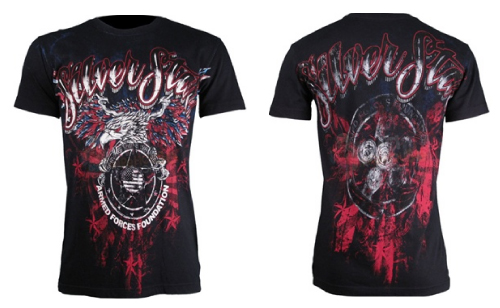 The Silver Star Armed Forces Foundation support t-shirt is a tribute to all the brave men and women in the United States military who are fighting for our freedom each day.
Although Silver Star has produced t-shirts especially to sponsor top MMA fighters, this shirt is perhaps the most significant sponsorship of all.
With each purchase of this shirt Silver Star will donate a percentage of sales to the Armed Forces Foundation and for its programs that help military personnel and their families.
There are two versions of this shirt, one features an eagle with the American flag which is encapsulated in a star (left) and the second features a circle of all the crests of each department of our Armed Forces.
Show your support and buy the Silver Star Armed Forces Shirt