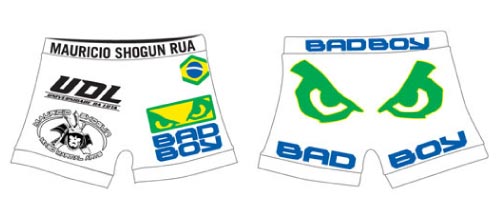 Shogun's infamous Bad Boy Vale Tudo shorts have been updated for his UFC 113 fight and rematch against Lyoto Machida.
The UFC 113 Shogun Shorts feature a design that provides you with unrestricted movement, especially when throwing vicious Muay Thai kicks. There are the familiar Bad Boy eyes logo on the backside, they are now green and blue instead of the original black.
Mauricio Shogun is written across the front of the waistband. To make things authentically "Shogun" there is a Samurai graphic on the bottom right leg that's like the images on the back of Shogun T shirts and Hoodies.