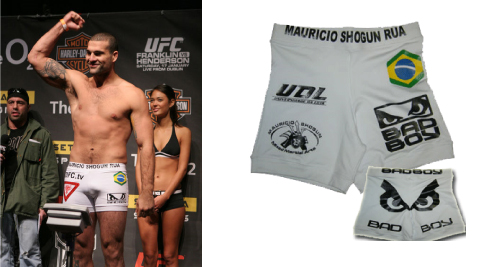 Mauricio "Shogun" Rua is the vicious Muay Thai striker and BJJ black belt that was the 2005 winner of the Pride Fighting Championship's Middleweight (205lb) division. Most notably he has defeated top fighters such as Chuck Liddell, Quinton "Rampage" Jackson, Alistair Overeem, Ricardo Arona, and Antonio Rogerio Nogueira.
As of today, Shogun is set to face Lyoto Machida in UFC 104 for the Light-Heavyweight title. This fight will be a challenge for Shogun, as Machida is undefeated and has proved to "be hard to hit". Although, Shogun's aggressive striking style will pose the biggest threat to Machida.
Bad Boy MMA has released a new limited edition Shogun fight short that is the exact replica of the shorts that Shogun has worn in Vale Tudo competition. "Vale Tudo" in Portuguese translates to "anything goes" essentially meaning no rules.
They are available in white and feature the famous Bad Boy eyes logo on the back and the Brazilian flag patch on the front. These MMA shorts are made by the same company since 1994 and you will get the same top-quality construction and comfort that have made Vale Tudo shorts one of the most popular fight shorts in MMA. They give an advantage in your fight game, lessening the chance your opponent can grab your shorts and improves your mobility immensely.
Although these shorts look like they have only an elastic fit, they also have a drawstring to ensure that you can secure the short fully.