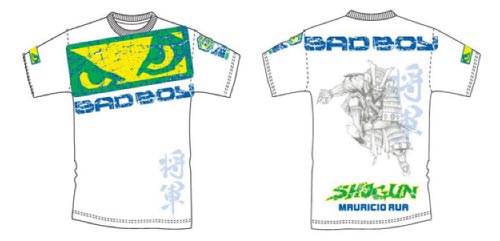 Mauricio "Shogun" Rua seeks redemption for a controversial loss to Lyoto Machida in their first fight in UFC 104. Now in UFC 113 Shogun and Machida will meet in a rematch to finally settle their dispute of who really won the first time around.
Shogun will be wearing a new version of his bad boy walkout shirt. The shogun UFC 113 T shirt features a subtle variation in design from Shogun's UFC 104 T shirt. It still keeps the Bad Boy logo and Brazilian colors, but now the UFC 113 version has a samurai shogun warrior graphic on the back, to pay tribute to his world famous nickname.
If you are looking for an MMA T shirt with a touch of sportiness and classic MMA Style the Shogun Bad Boy T Shirt for UFC 113 is an awesome choice.