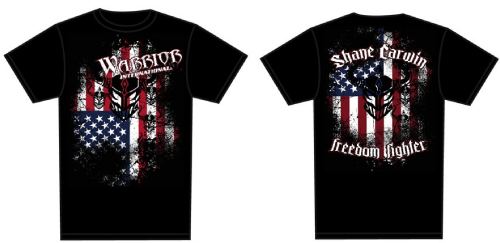 The Shane Carwin T shirt for UFC 111 is finally here! Also, Shane Carwin finally gets to fight again in the Octagon, which is even more exciting. Originally he was supposed to fight Brock Lesnar for the title, but as we all know, Lesnar suffered a life threatening illness and is in recovery.
Now Carwin gets to fight Frank Mir at UFC 111 for the interim Heavyweght Title.
The winner of this fight gets to battle Brock when he is healthy again.
Warrior International is the official sponsor of Carwin and has been for a long time. The Official Shane Carwin T Shirt has the American flag as the background for the front and back, with the warrior Skull Helmet logos covering it. The back, however, has a special message that reads "Freedom Fighter". This is perhaps to honor all those in the military fighting for our American freedom. Again, this is another excellent MMA T Shirt from Warrior International MMA Gear.
UPDATE!! ** As you know the Brock Lesnar vs Shane Carwin fight had been rescheduled for UFC 116 because Brock had to have surgery. **
Buy the Warrior International Shane Carwin T Shirt
You might also like these other Shane Carwin T Shirts:
Team Carwin T Shirt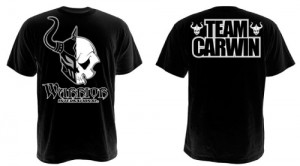 Shane's trainers and coaches wear this black "cornerman" t shirt when getting him ready for his fights. It has the unique Team Carwin logo and the warrior international branding on the front. Be part of Team Carwin and show your support. Buy the Team Carwin T shirt