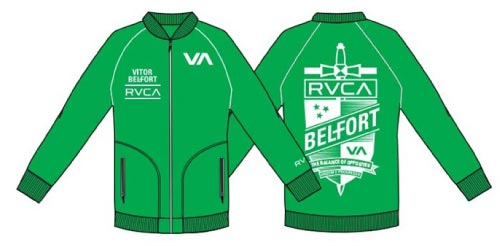 RVCA has followed up their signature Vitor Belfort t-shirt with its new Vitor Belfort track jacket.
The MMA track jacket features the Brazilian green and the same graphics as the popular T shirt. There is the shield and sword symbol that has the saying "Balance of Opposites" on the bottom. This signifies Vitor Belfort's fighting style, where he has an awesome balance of power (striking) and finesse (grappling).
This RVCA jacket is ideal for warming up for training or for competition. But it looks so good (just like most of RVCA products) that you can wear it casually or even out on the town.
If you like the RVCA t shirts then you will love this track jacket.