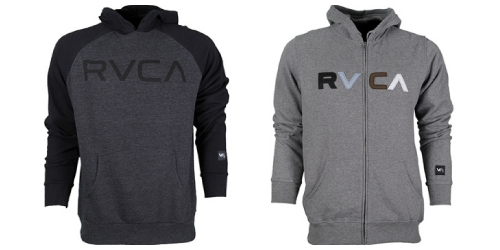 RVCA has made plenty of different hoodie designs for MMA fighters including BJ Penn and Fedor. Those were more graphic and offered a unique style.
But if you are looking for a simpler and sportier style check out these RVCA hoodies. These are great for working out at the gym or for MMA training… and they even look cool enough to wear in casual settings.
It features a simple design of the brand logo in the center. You can get either the pullover or zip up version. The pullover has oversized letters, while the zip up hoodie has smaller letters with different colors.
The grey hoodies are pictured above because we think they look the best, but you can also get other colors such as khaki or white.