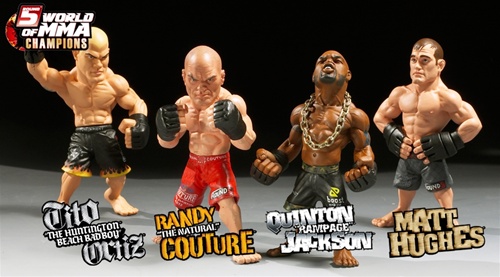 Mixed Martial Arts has been said to be the fastest growing sport in the world. And the Round 5 MMA collectible figurines can reinforce that statement. MMA has developed into a sports phenomenon that is spreading quickly and now is starting to break into the mainstream. The Round 5 MMA collectible figures prove that Tito Ortiz, Randy Couture, Matt Hughes and Quinton "Rampage" Jackson are gaining popularity similar to the superstar athletes in the NBA, NFL and MLB.
The figurines are about 6" tall and have movable parts. They are designed by the world famous Todd McFarlane who is known for designing other popular characters figurines like Hellboy, Spawn, Halo, and Incredible Hulk.
I think these figurines can be appreciated whether you have been a long-time fan of MMA or a newbie. I got to say that the MMA figurines have really great detail and just look cool. They really captured the personality and unique characteristics of each UFC fighter.
You can either purchase them as a set of 4 or individually. One thing I got to ask is where the F*@# is Chuck? The Iceman might be too cool for this line-up. (Sorry I just had to say it)
See more pictures of Round 5 MMA Collectible Action Figurines Series 1 Set