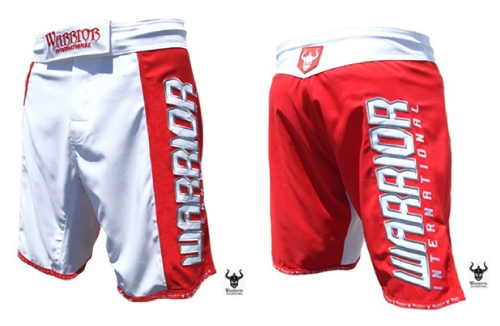 Warrior International has recently launched their new line of MMA gear and has now brought us an updated version of the best MMA shorts: the NEW and improved Warrior Annihilation. The previous version was perhaps one of the most popular MMA shorts worn by top fighters such as Brock Lesnar, Rampage Jackson, Sean Sherk, Shane Carwin and Joe Stevenson. ? the new version will continue to be as popular or even more so.
Construction
Warrior International is known for its durability and its Triple stitched seams can withstand high stress, prolonging the life of the shorts for a very long time. The fabric has also been treated with a unique process – it is coated with Teflon fabric protector that will repel sweat, blood, saliva, water and other debris. This process helps keep your MMA shorts dry and stain free. Inside the shorts you will find a hidden pocket for your mouthguard or MP3 player, making it a versatile (and convienient!) for training or pre-fight preparation.
Design
The Design is similar to the old version with a Vertical Warrior International logo that is on the front left leg and back right leg, there are no longer a bunch of warrior helmets surrounding the logo. However there is Warrior embroidery on the enclosure and a rubber patch of the Warrior helmet on the top back of the shorts. These new details give the design a sharper look and still retains the unique style that has always been a fighter and fan favorite.
Comfort and Fit
The new Warrior International shorts have a much improved closure strap system that incorporates a 3-way fold and an interlocking drawstring for a better secure fit.
There is a 5 ¼ inch leg opening that helps with unlimited mobility and this is more than enough room for any type of ground or stand up maneuver. Sizes for the shorts are pretty standard, its available in sizes 30-42 and "fits true to size".
Overall Review
These shorts are excellent, just like the previous model. It's durable and has a fabric that resists the types of moisture common to MMA. Warrior's new strap system is one of the best fitting in the industry and has improved greatly from the typical MMA fight shorts. You can NOT go wrong with these shorts, they are one of the best.