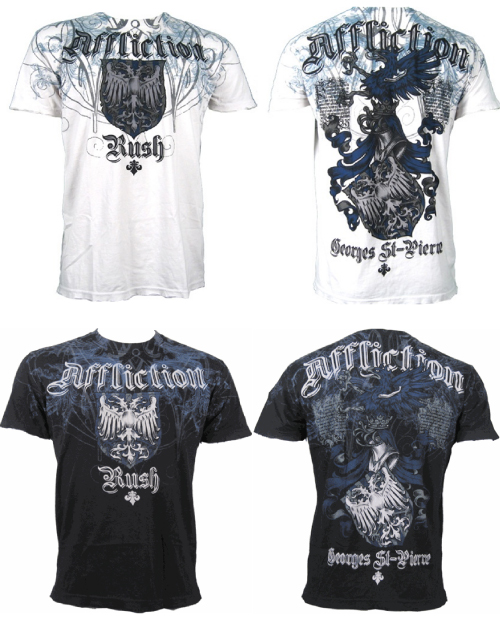 Now that Affliction has ceased their fight promotion events, they have gone back to what they do best: creating awesome MMA inspired clothing. They revive their t-shirt line by bringing us a new version of George St. Pierre's (GSP) Warcrest Affliction Shirt.
The Warcrest has a very robust design and is sure to be a favorite due to the success and domination of St. Pierre in the UFC Welterweight division.
The George St. Pierre Affliction shirt features a fabric that has been through a hand grinded process to give it a tremendously soft feel. The design is pure "Affliction" and has features St. Pierre shield on the front with GSP's nickname "Rush". The shield also appears on the back with an extremely detailed medieval warbird.
This GSP shirt comes in white and a black version, both look great and easily make it one of our favorite MMA shirts. Buy the new George St. Pierre's "War Crest" Affliction T Shirt – $49.99.