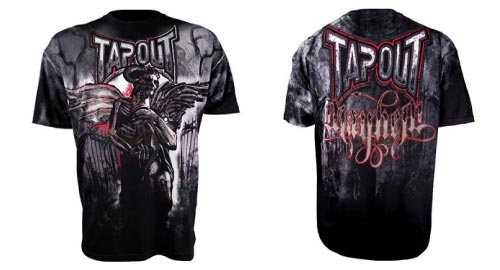 Mayhem Miller wore his Signature Series II Tapout Shirt at Strikeforce Nashville on April 17, 2009, where he defeated Tim Stout in Round 1 via TKO.
Perhaps the most memorable part of the evening, unfortunately, was the brawl after the entire Strikeforce event. It happened while Jake Shields was being interviewed in the cage after his successful title defense.
Mayhem entered the cage and interrupted the interview by saying to Shields, "Where's my rematch buddy?" This somehow sparked a huge brawl and Jake Shield's camp swarmed Mayhem and proceeded to unleash a beatdown. It eventually was stopped by security.
Mayhem later issued a sincere apology that he didn't mean to start a fight.
We are fans of Mayhem Miller, and honestly think he was just trying to hype up a rematch, NOT start a brawl. Either way incidents like this should not happen.
If you are a fan, show your support for Mayhem Miller!