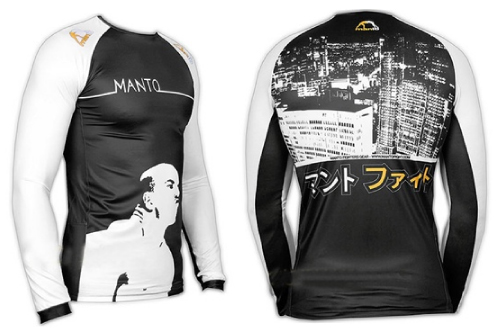 If you are looking for unique MMA rashguards, then Manto's Tokyo rashguard is perfect for you. Manto, the European based MMA company has been known to develop one-of-a-kind designs for their MMA gear.
The Manto Tokyo rashguard features a design that is unusual, but definitely brings a whole new level of style to MMA, making it one of the most popular rashguards right now.
On the front of the rashguard is a black and white figure drawing, we have not figured out yet who that guy is, it's just some cool-looking dude! The back features a more recognizable image, it is a picture of the Tokyo skyline, certainly one of the most creative designs on a rashguard. The two main graphic seem like they don't relate, but flows very well altogether.
If you are worried about the images getting rubbed off, have no fear. The images are tattooed into the fabric so they won't come off with repeated washing or heavy day-to-day usage. Make sure to get yours before they run out! Buy the Manto Tokyo Rashguard Here