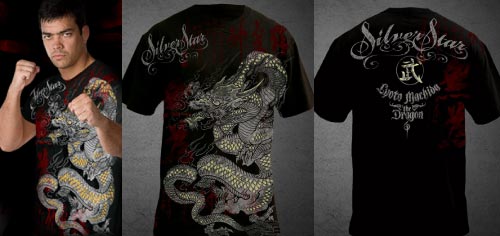 Lyoto Machida's T Shirt for UFC 113: Machida v Shogun 2 will be the new Silver Star "Enter the Dragon" t shirt. It's One of the more stylish MMA T shirts from Silver Star Casting Co.
Machida will look to continue his winning streak and remain the undefeated champ of the Light Heavyweight division in UFC 113. He will face Shogun in a much needed rematch, after the controversial decision in their previous fight in UFC 104.
It seems that the The Lyoto Machida Dragon T Shirt keeps getting more intensity and detail. This Machida shirt features a very distinct Asian Dragon theme, with a very detailed dragon graphic that has a nice contrast with yellow colored scales. On the back, is the traditional Silver Star logo and Lyoto's nickname. Throughout the shirt there is a pattern consisting of faded Asian characters that give it a vintage and very stylish look.