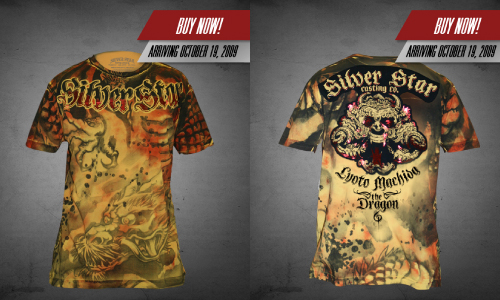 Silver Star has reported that current UFC light-heavy weight champ, Lyoto "The Dragon" Machida will be wearing this Silver Star Walkout shirt for UFC 104 on October 24, 2009.
Machida who is currently undefeated in the UFC, will be defending his title for the first time against the ferocious Muay Thai fighter Mauricio "Shogun" Rua in the main event.
Many people have been impressed with Machida's elusive and technical style and so has Silver Star owner Luke Burrett says "Machida sets the bar high, and is someone MMA fans can look up to." We definitely agree with this statement, as Machida has exhibited a whole new level of skill and discipline in MMA.
The shirt is now available! Buy the Silver Star Lyoto Machida Shirt for UFC 104 here.