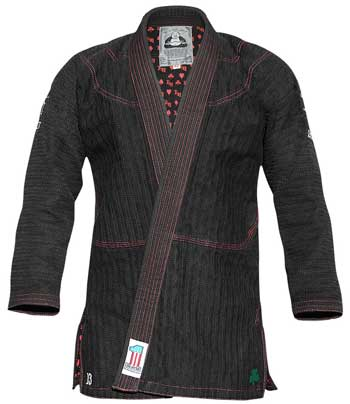 The Lucky Gi/Kimono is one of the flashiest gi's out there.  It has a really cool logo on the back, but an even cooler pattern on the inside.  The inside lining has tiny Lucky logos all over.  The gi is not just about looks though, it is CBJJ approved and very durable.  It is a double weave, with reinforced stitching, and even has built in kneepads.  I've been told that the Lucky gi is one of the more form fitting, slimmer gi's around, so it is worth to look at if you have trouble with baggy and loose gi's.
The Lucky Gi comes in white (white green logos) or a really cool black (with red logos and stitching).  .
The Lucky Gi is very rare and you probably won't find one anytime soon.
Recommended BJJ Gi Alternatives:
If you are looking for a top of the line Gi, we recommend the Fuji Kassen Pearl Weave Black Gi. It's medium weight is versatile and durable for year-round use.



Fuji Kassen Pearl Weave Black Gi
The Venum Gold Weave Power Gi also is a good choice it has been tested and developed by professional athletes. The Gi is strong and durable because the Gi jacket is madefrom 1 piece of fabric (no seam in the back).



Venum Gold Weave Power Gi
The Atama Gold Weave Gi is lightweight yet very durable. It also features tapered sleeves leave less for your opponent to grab onto.



Atama Gold Weave Gi