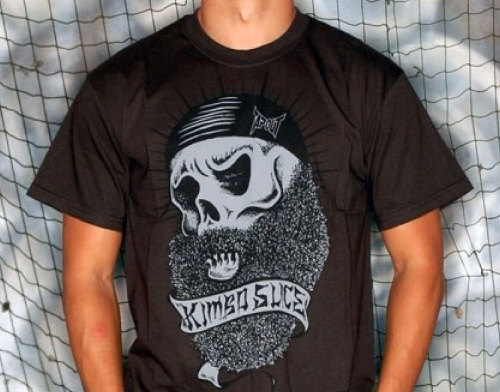 We believe that this is the coolest Kimbo Slice T Shirt ever. Tapout really made something quite original with this Kimbo shirt. We have seen skulls, dragons and eagle wings on lots of other MMA shirts – which all look cool. But this shirt has a skull with the Kimbo beard! Along with the signature stocking cap that he wears often.
The shirt has a faded brownish color that gives it a vintage look and style. And now back to the beard… its really detailed and looks as dense and intimidating as the real thing.
Love or hate Kimbo, he's the biggest name in street fighting and this is certainly of the most creative ways to pay tribute to the rising MMA star. It is hands down one of our favorite shirts, it has a sense of humor and a completely unique look than all other MMA t-shirts out there.