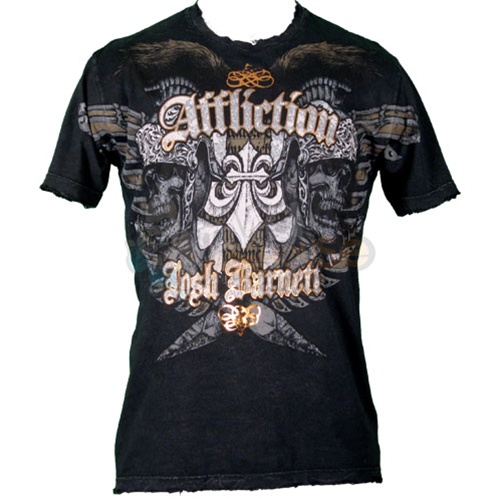 The recent news of Affliction partnering up with Golden Boy productions has directed away some focus on the fighters in the upcoming Affliction fight. Josh Barnett has been overshadowed by the recent Affliciton hoopla as well as the news that Fedor Emelianenko will be on the main card.
With that said, Josh Barnett is a fighter worth paying attention to, as he is scheduled to face off against former UFC Heavyweight Andrei Arlovski.
Barnett has defeated some notable MMA Fighters such as Randy Couture, Jeff Monson and Antonio Rodrigo Nogueira.
Above is the Josh Barnett Affliction signature shirt. It features Hand grinded cloth for comfort and soft-feel texture. The MMA Shirt also features high-end design elements such as a Dark Copper Foil imprint and cloth that has been "Black Lava Wash". This shirt is definitely serious when it comes to style and comfort. Josh Barnett Affliction Shirt