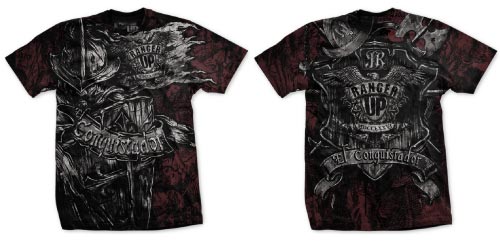 Jorge "The Conquistador" Rivera put a beatdown on Nate Quarry in the UFC Fight Night 21.
Jorge Rivera's T Shirt for the night was the Ranger Up Conquistador. It has a dark but detailed image of a Conquistador, a Spanish term widely used to refer to the Spanish soldiers and explorers.
Ranger Up is a Military inspired MMA brand, that was started by US military personel and they primarily promote MMA fighters who are involved in the Military.
Jorge Rivera was a former Cavalry Scout in the US Military and proves to be an equally fierce warrior in the Octagon. Proceeds made from Ranger Up go to support Military families and Veterans.