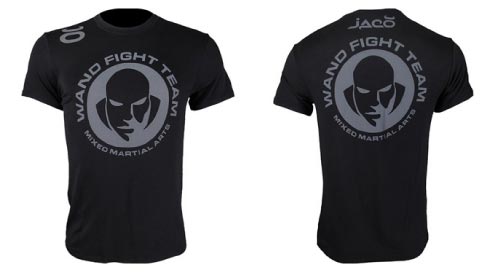 This is the Official Wanderlei Silva Fight Team T Shirt from Jaco.
It is made of 70% Bamboo fibers and 30% cotton. You may be wondering what is so special about bamboo? First, it provides an extremely soft feel (almost like cashmere). Second, Bamboo also has great moisture wicking properties to keep you cooler. Lastly, bamboo is a fast growing plant… meaning its easily replenishable and easier on the environment.
Besides the unique construction of the Wand Fight Team T shirt, it also has a cool design. The official Wand fight team logo is located on both sides with the menacing face. This is the logo used by Wanderlei Silva's Gym that is headquartered in Las Vegas.