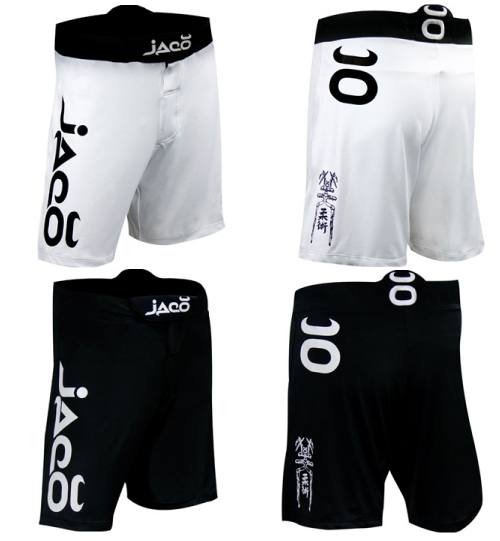 JACO's fight short "The Resurgence" was developed to be technologically superior – with features that provide better functionality and comfort. The shorts design has a clean and crisp look but at the same time is very stimulating.
Design
The Resurgence shorts take the philosophy of "simple is better" and made it a reality. There are no crazy designs like skulls or anything over-the-top. Only a pure design that is both stylish and classy. They are definitely one of the better looking fight shorts out there, and it makes a statement of pure refinement. There are two basic versions black and white. We prefer the white version, as it looks more intense with the stark contrast between the dark and light shades. The MMA shorts also look similar to BJ Penn's fight shorts that have a simulated BJJ Black belt built into the shorts. On the back left leg the JACO shorts have an Asian inspired symbol that is subtle but give a touch of an exotic design.
Construction and Durability
These shorts are constructed of fabric that is made up of 90% Polyester / 10% Spandex this special blend gives the shorts extreme moisture resistance and wicks away sweat very quickly. The fabric also can withstand the highest pressure with a 4 way stretch range of motion that will be flexible enough to resist tears or ripping in high intensity training or competition. JACO has also constructed an innovative internal stretch pocket that is located at the bottom of the shorts leg opening. This enables you put away your mouthguard easily without having to unite your shorts each time.
Comfort and Fit
JACO has develop the first compression waist-tightening system that enables you to tighten the shorts consistently, that is without cinching or bunching in certain spots around your waist. This helps ease any pressure points that might have occurred. A fly backing panel construction was built into the shorts to prevent any rubbing and chafing from the fly's Velcro material. If you look closely the JACO logo on the back of the waistband is slightly raised, this prevents the shorts from riding up.
Overall Review
These are possibly one of the stylish MMA fight shorts. The design is simple and refined for those who want a classier look in competition. The fabric is quite comfortable and has a good flexibility. Innovations such as the bottom mouthguard pocket, the waist tightening system and the raised waistband definitely make this short technologically superior to most MMA shorts out there.