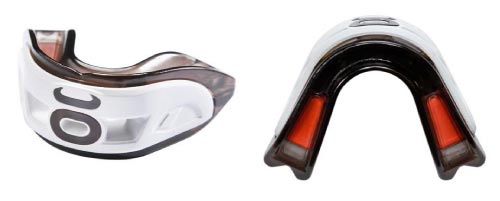 Jaco makes some of the best MMA gear and clothing in the business. And it's no surprise that the new Jaco Mouthguard is also one of the best. For starters, this MMA mouthguard has all the bells and whistles; its one of the more advanced mouthguards. It rivals Brainpad, one of the top mouthguards.
The Jaco mouthguard overview:
| | |
| --- | --- |
| FEATURES | BENEFITS |
| Dual Tray Design | Drastically reduces risk of concussion/brain trauma by 40%, while protecting upper and lower teeth |
| Internal Shock Absorbers | Absorbs and disperse high-impact force |
| Air Channels | Allows you to breathe easier and also to speak while jaw is closed and protected |
| Dual Density Thermoplastic Construction | Ensures an ideal personalized fit, even if you have braces |
| Anti-Microbial Case | Case helps prevent growth of bacteria and keeps it sanitary |
As you can see, the Jaco Mouthguard has it all and offers serious protection.
You might also be interested in:
How to Chose an MMA Mouthguard