What kind of shorts do I need for MMA?
Any shorts that have a drawstring, no pockets, and no metal or plastic on the outside are perfectly fine. The drawstring will keep your shorts secure. Pockets are dangerous because somebody's fingers or toes can get caught in them. And any metal or plastic can cut or hurt your training partner.
Then what is so special about MMA shorts?
They are better than regular shorts because they are made specifically for MMA. Most have a much more secure drawstring system, quick drying fabric, and even split seams and flex panels.
What are split seams and why do I need them for MMA?
Split seams are a separation down the leg of the shorts. These are helpful when you are grappling as they give you more mobility. They are helpful for striking as they do not restrict you when throwing knees or high kicks. If your shorts never hinder you than you do not need split seams. They are usually for people who have thick thighs.
What about flex panels?
Flex panels are stretchy material, usually in the crotch area and sometimes on the sides of the shorts. They serve the same purpose as split seams, helping you gain better mobility.
You said not to have pockets on your shorts, but this pair of MMA shorts I am looking at has a pocket?
Some MMA shorts do indeed have an outside pocket, but they will be very small and will be secured with strong Velcro to insure that they will not come open during training. These pockets are usually for holding your mouthguard when not in use.
What about grip panels? Do these really work?
Grip panels are the newest technology for fight shorts. They are rubber sections that are covering the inside thighs to help secure an opponents limb from slipping. They DO work, but it is almost a negligible difference. If you have a good submission locked on, it isn't going to matter if you have the grip panels. If your opponent escapes, chances are that the grip panels wouldn't have made a great difference.
What should I look for when I buy my own shorts?
First decide on what closure you want, there are many different types. For example, Venum offers only a drawstring, while Sprawl offers a drawstring and elastic waistband. It is mainly personal preference and once you training you won't really notice, just as long as the shorts stay up and secure.
– Decide if you want flex panels or not. Consider them if you feel your mobility is limited.
– Make sure there are no outside pockets on the shorts. If there are, they absolutely have to have some securing device like Velcro to insure the pocket will not open up during training.
– Lastly, chose a design that you like! A nice solid color is always good, but there are crazy designs out there by shorts like Tapout and Venum.

Recommended MMA Shorts:
Venum MMA Fight Shorts



Venum MMA shorts are one of the most popular among top MMA fighters, they are extremely durable and feature lightweight fabric to give you mobility. They definitely have the best selection of shorts designs in Mixed Martial Arts with a wide variety of colors and desgins to match to your personal style.

Sprawl Fusion Fight Shorts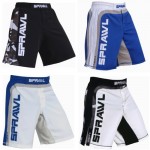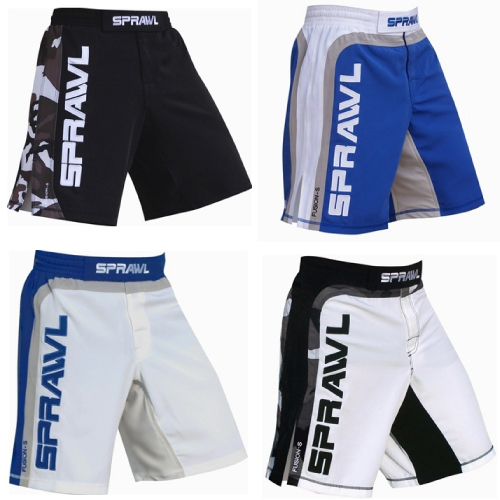 Sprawl is focused on functionality these shorts are the newest generation of MMA shorts since the original Sprawl grappling shorts. These are touted as the most advanced fight short in the world it features the Channel Lock Waist band and fabric that is resistant to bacteria and fungus.

Hayabusa Fight Shorts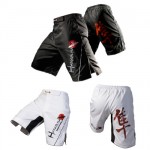 These feature Mechanical PolyDirectional stretch fabric, this extra flexibility allows for better unrestricted movement, so it won't bind to your legs for a greater range for high kicks and quick sprawls.

Jaco Resurgence Fight Shorts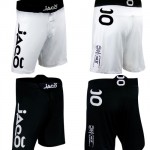 Perhaps one of the more stylish MMA fight shorts for that classy look. These feature tnnovations such as the bottom loading mouthguard pocket, so you dont have to untie your shorts each time. There is also a raised waistband so it doesn't ride up on you.