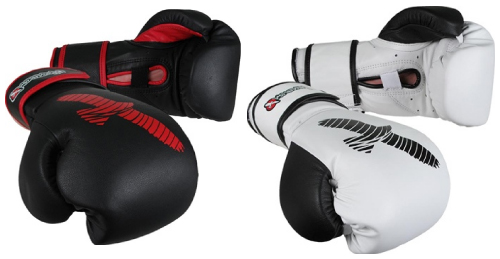 Hayabusa once again develops a new set of high-quality MMA gear and have released their 16oz. Pro Sparring Gloves, perhaps one of the best sparring gloves available today.
Design
The Hayabusa sparring gloves feature a sleek and stylish design that is typical of this brand. The gloves are available in two different colors a black/red and a white/black combination; both have the famous Hayabusa hawk logo on the outer padding. The white and black combo is definitely our favorite as it has a similar look to the other Hayabusa gear, it also stands out more than your ordinary sparring glove (which are usually black or red)
Construction and Durability
These gloves feature 100% Premium leather that is easy to work-in and have the right blend of elasticity and protection for a very durable outer layer. It has a specially made foam complex construction that is suitable for all types of MMA training. As with other Hayabusa MMA gear, the gloves have a very solid and tight stitching that will endure the high stress from heavy training. The gloves as you would expect are just built to be very durable.
Comfort and fit
The most significant feature on the gloves is the new Dual cross closure system. This glove has two straps that come from each side to wrap over each other. Instead of the traditional strap that wraps around from one direction. These gloves are be secured from both sides of the wrists, providing the maximum wrist support and stability in a sparring glove. It has enough support to wear without handwraps, but for safety precautions, handwraps are always recommended. To further add to a great fit, the glove is ergonomically designed to conform to your hands.
Overall Review
These are the best sparring gloves available right now. They are made of high-quality materials and put together very solid. The Dual cross closure is the best strap in sparring gloves and provides the most secure fit. Definitely a good purchase since the gloves are amazingly only priced at $89.99.