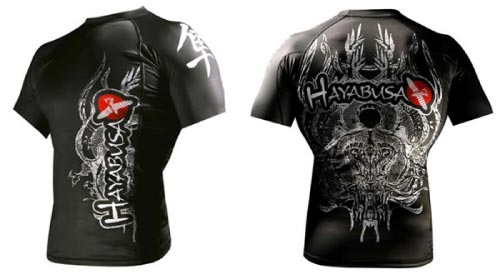 Hayabusa's popular and best-selling MMA rashguard, the Mizuchi, is now available in a short sleeve version. It shares the same top-quality features and the kick-ass design inspired by ancient Japanese art.
The Mizuchi shortsleeve features an advanced thermoregulation design that keeps the body dry by wicking away moisture. In addition, it dries quickly after a rigorous grappling training session. And the thermo keeps your muscles warm, to prevent muscle sprains and other injuries.
The fabric is also made of anti microbial properties to prevent the growth of fungus and bacteria such as staph.
The design graphics are extremely detailed, but do not worry about them rubbing off or peeling. These graphics are "fused" into the fabric itself, meaning it is guaranteed to never come off, (unlike screen print).
This Mizuchi Shortsleeve rashguard is one of the best in MMA. While they are available in both black or white, we recommend the black version, just easier to keep looking clean.