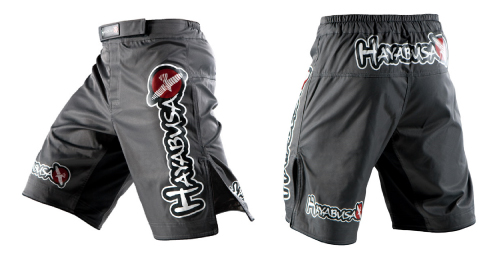 Hayabusa MMA Gear is on a roll with new MMA Shorts recently. In addition to their Mizuchi shorts, they have updated their line of products with the Hayabusa Competition Shiai Fight Shorts.
These are made with the high quality materials and construction as their other shorts, but of course, its developed specifically for competition.
It features "Mechanical PolyDirectional" stretch fabric, stretch crotch panels and split side seams for maximum comfort and mobility. There is also a waistband system to customize the fit to your preference. The fabric is treated with High-IQ, a process that prevents bacteria growth and odor.
The design is bold and simple, with plenty of space for sponsorship patches and decals. They have a cool gray color that is unique in Hayabusa fight shorts, which are usually black or white.
Overall, these shorts are quite impressive, is one the best MMA fight shorts for competition to be developed recently.