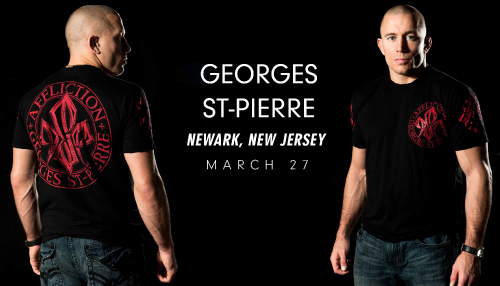 Affliction has created a GSP version of their Crest T shirt. They previously developed one for Randy Couture.
The Georges St. Pierre Affliction Crest T shirt is part of the infamous Affliction signature series and will be featured at St. Pierres' UFC 111 fight when he defends his title against Dan Hardy.
The GSP T shirt is a fresher Afflcition style, deviating from the usual chaotic designs. This shirt is clean looking with a circle symbol and GSP's crest. There is a big one on the baack and the smaller replica on the chest. The simpler and sharper design definitely looks a lot better than the usual Affliction types and is ideal for anyone looking for something more casual.