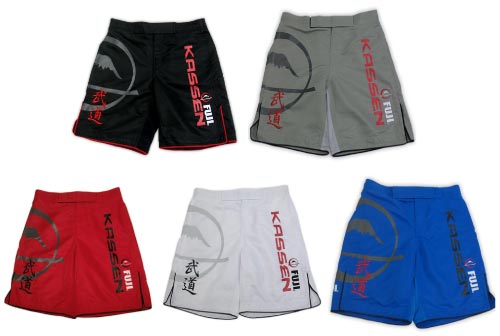 Fuji is one of the top manufacturers of Brazilian Jiu Jitsu Gis and now has expanded their product line to include MMA Fight Shorts.
These are the New Fuji Kassen MMA Fight Shorts, the will provide you with the stretch and durability you can expect in top fight shorts.
Fuji actually gathered a team of fighters together for research and development of these shorts, so you can be sure that they will meet the demands of fighters. The Fuji fight shorts feature: side split seams, stretch fabric, stretch inner thigh panels, anti-bacterial and sweat repellant fabric.
The design of the shorts are clean, with the Fuji Kassen Logo on the left leg. On the right leg is a graphic of the Mt. Fugi icon. Overall, it's a simple design that is great if you are looking for a great all around MMA short that you can use for fighting, training, running or casual wear.

Buy Fuji Kassen Fight Shorts (mult. colors)