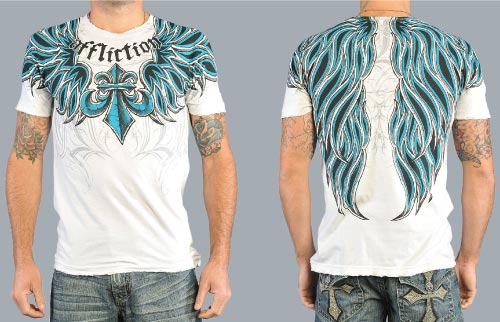 Frankie Edgar's T shirt for UFC 112 will be Affliction's Odeon Signature Series shirt.
It features a very bold design, if you want to really make a statement, it has a large Affliction crest symbol at the center of the chest. Sprouting from that image are two great wings that continue to the back that is sustained in one complete graphic. There are faint background lines that give a subtle effect and don't take the main focus of the "big and bad" wings.
Edgar, a top collegiate wrestler turned MMA fighter, will get an opportunity to prove himself in a title fight against reigning champ BJ Penn at UFC 112.
You might also like: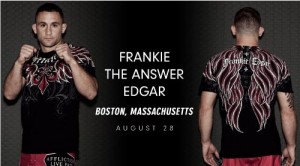 Frankie Edgar T Shirt UFC 118