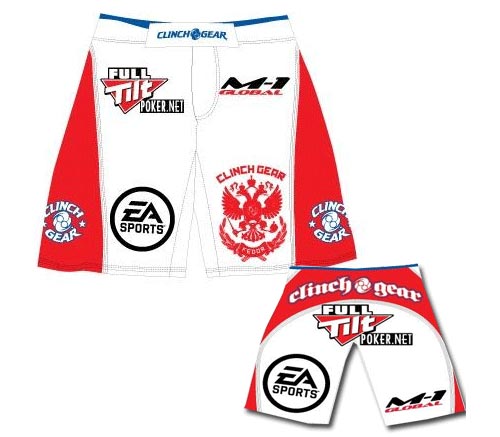 Clinch Gear has made the Fedor shorts for his fight at Strikeforce: Fedor vs Werdum. It's very interesting because Fedor usually wears spandex compression shorts, this is the first time we have seen Fedor wear the regular MMA shorts.
With that said, these shorts are limited edition… and only a few will be made so make sure to secure one, if you can. By the way, they are not cheap! The Fedor shorts cost about $100 due to its rarity. It is definitely an item for hardcore fans and anyone that wants a unique fight short.
The best part about the Fedor shorts: they come with all the sponsor logos as the original, they will look exactly like the ones Fedor wears on fight night. This is truly incredible, as most fighter shorts are never available with the actual sponsor logos.
The logos on the shorts feature Clinch Gear, EA sports, Full Tilt Poker and M-1 global.